About the Award
Dongrun-Yau Science Award ( Dongrun-Yau for short, formerly known as "S.T. Yau High School Science Award" ) was initiated by renowned mathematician Shing-Tung Yau and Chairman of Taikang Life Insurance Company, Dongsheng Chen. Dongrun Foundation became the sponsor of the program in 2015. The Award was then officially renamed as "Dongrun-Yau Science Award."
The competition structure and selection process of Dongrun-Yau Science Award are modeled after Intel Science Talent Search, aiming at creating a world class academic competition in science for talented high school students. The program searches for outstanding students with richly accumulated knowledge, passion for science, and persistence in the pursuit of truth. Focused on "Innovation, Experience, Progress", Dongrun-Yau Award strives to attract more high school students into the world of science research and find the power of innovation within themselves. The competition is designed to encourage students to participate and experience, as well as to discover young science talents, help them to be better prepared for future challenges and make more progress along the way of personal development.
Dongrun-Yau Science Award contributes several million RMB each year to set up awards in mathematics, physics, biology and chemistry, attracting thousands of teams from home and abroad joining in the competition. Each participating team submits a research topic and outline, and produces a report after independent research. There will be three rounds of evaluation and selection. The teams that made it to the finals will give presentations in English before an international committee composed of over twenty top scientists from the US, Britain, France and other countries. Winners of the competition will then be selected from the finalists, including 1 gold award, 1 silver award, 3 bronze awards and honorable mentions and encouragement awards. The competition is a great challenge as well as practical training for all the participants, especially for Chinese high school students. The whole experience will be invaluable.
From its establishment till the end of 2015, Dongrun-Yau Science Award has successfully held eight sessions. A total of 4659 teams from over 1200 schools participated in the competitions. The participants came from 28 provinces and autonomous regions in China and other countries such as the US and Singapore. A total of 192 teams, approximately 360 students won awards, 130 teams received financial aid, another 62 teams made it to the finals. A total of 120 professors and scientist from all over the world joined the event as judges or consultants. The program also attracted prestigious universities such as Tsinghua, Zhejiang and Fudan to join in the effort.
Participants of the Dongrun-Yau Science Award competition have rich accumulation of knowledge in mathematics, physics and other basic science subjects. The competition experience further encouraged them in creative thinking and helped them to build more confidence to compete globally. Of the 24 mathematics award winners of 2015 alone, one third had been accepted to elite schools abroad. Many of the award winning students from previous years went on to Tsinghua, Peking, Harvard, MIT, Princeton, Yale and other top universities for higher education.
Timeline of the Award
2008
S. T. Yau High School Mathematics Award established with the joint effort of Shing-Tung Yau and Dongsheng Chen.
2013
S. T. Yau High School Physics Award launched. It was then combined with the Mathematics Award and named as S. T. Yau High School Science Award.
2015
Dongrun Foundation became the sponsor of S. T. Yau High School Science Award, and the award officially changed its name to Dongrun-Yau Science Award. Awards for the two categories were renamed as Dongrun-Yau Science Award (Mathematics) and Dongrun-Yau Science Award (Physics) respectively.
2016
Dongrun-Yau Science Award (Biology) and Dongrun-Yau Science Award (Chemistry) will be launched this year.
Professor Shing-Tung Yau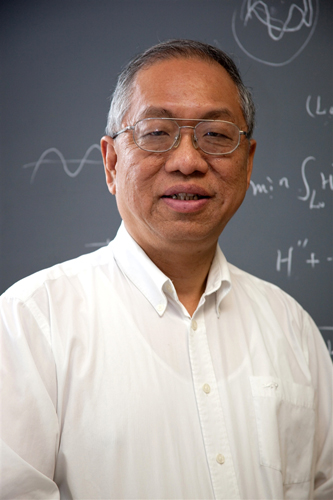 Shing-Tung Yau was born in Shantou, Guangdong Province, China. After graduating from the Mathematics Department of the Chinese University of Hong Kong in 1969, he went to the University of California, Berkeley for higher learning. Under the supervision of Shiing-Shen Chern, Yau achieved the Ph.D. degree at the age of 22. He then worked at the Institute for Advanced Study, Princeton, State University of New York at Stony Brook and Stanford University. Since 1987, he has been a professor of mathematics at Harvard University. He was also appointed as a professor at the Harvard Department of Physics in 2013.
Yau's work is in geometry in the broadest sense. He was the first person to combine differential geometry and analysis, and used their interaction to solve longstanding problems in both subjects. Yau's work opened up new directions, set foundations and changed people's perspectives towards mathematics and their applications in physics and computer science. For example, his proof of the positive energy theorem in general relativity demonstrated, sixty years after its discovery, that Einstein's theory is consistent and stable. His proof of the Calabi conjecture gave solutions of multiple well-known open problems in algebraic geometry and also allowed physicists to show that string theory is a viable candidate for a unified theory of nature. Calabi-Yau manifolds are among the 'standard toolkit' for string theorists today.
Professor Yau also devotes a lot of time and energy to train young mathematicians. He has supervised over 66 Ph. D. students, and is actively involved in reaching out to the general public about the important role of mathematics in modern society. He is the director of the Institute of Mathematical Sciences at the Chinese University of Hong Kong, the Morningside Center of Mathematics of the Chinese Academy of Sciences, and the Center of Mathematical Sciences at Zhejiang University. In December 2009, Yau was invited to serve as the inaugural director of the Mathematical Sciences Center at Tsinghua University. He was also elected as Chair Professor of Tsinghua Xuetang Mathematics Program in 2011 to provide guidance to the Program.
Honors and Awards
Oswald Veblen Prize in Geometry (1981)
Fields Medal (1982)
MacArthur Fellows Program (1984)
Crafoord Prize (1994)
United States National Medal of Science (1997)
China International Scientific and Technological Cooperation Award (2003)
Wolf Prize in Mathematics (2010)